Highlights
Jaz Legacy Nile Cruise Ship
Cruise down the Nile in comfort and style on-board the Five-star Deluxe Jaz Royale for a truly regal experience. Elegantly designed and beautifully furnished, the Jaz Royale promises guests an unforgettable journey through mesmerising, exotic scenery. It features round-the-clock reception, internet access (against charge), international telephone and fax services (additional charge) and a meeting space that can be made available if the ship is fully chartered. The Jaz Royale boasts amenities that are comparable to those at the best hotels in the world. Board this floating world of luxury and experience the ancient wonders and the sights of Egypt first hand.
The Jaz Legacy has a uniquely elegant style and offers supreme comfort for your cruising pleasure. Facilities include a restaurant, lounge bar, pool bar, swimming pool, gift shop and fitness equipment.

The Jaz Legacy is a 5 star deluxe cruise that features 76 cabins, 74 double cabins and 2 suites. The upper deck (2 has 18 doubles; upper deck (1) has 28 double cabins and 2 suites. The main deck has 20 double cabins and the lower deck has 8 double cabins. The main and upper deck cabins have large panoramic sliding windows.
Reception (24 hours reception)
Internet Service against charge on board
Laundry Service
Large sun deck with swimming pool and pool bar.
Cabins are equipped with private W/C, bathtub and hair dryer.
Gift shop.
Beauty Salon (open twice a week upon request in Luxor & Aswan).
Meeting space can be arranged if boat is totally chartered.
International Telephone and Fax service against charge.
Fitness equipment and massage.
Major credit cards accepted.
Gallery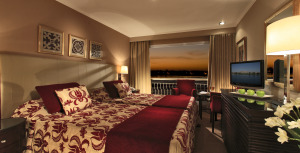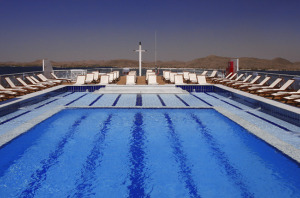 Facilities OnBoard
Fully Air conditioned cabins (individually controlled) • Marine Satellite TV reception closed circuit video • In room music system • In cabin safety box • Mini bar
Accommodations
Itinerary
| Day | Details |
| --- | --- |
| Day one | After arriving in Luxor, you'll check in to the ship. |
| Day two | You'll visit the Nile's West Bank, where sights like the Valley of the Kings and the Temple of Queen Hatchepsut line up.) |
| Day three | Horus Temple – dedicated to the falcon-headed sky god – is first up today. Then it's on to Kom Ombo, where you'll pay a visit to Sobek Temple. |
| Day four | Aswan's best-known attraction, the Aswan High Dam, is on the agenda. Later, you'll head to the Philae Temple, before boarding a felucca and sailing to Elephantine Island. |
| Day five | In the morning there's an optional trip to Abu Simbel, which is home to a duo of temples guarded by 20-metre-tall statues of Pharaoh Rameses II. |
| Day six | In the morning, you'll tick off the Luxor and Karnak Temples, before heading on to Edfu. |
| Day seven | Denderah temple is first up on the itinerary today. |
| Day eight | Things come to an end today, and you'll check out of the ship. |
| | |
| --- | --- |
| Technical Information: | • Built according to bureau veritas specifications and classifications • 72 m length, 14.8 m width and 1.5 m draft. • Engines power 4X380 HP Volvo, 3 generators 3X280 KW CAT, (Caterpillar) • Complete water purification station • Global positioning system (GPS),Radar and short wave radio • All partitions and ceilings are fire resistant and sound proof • Electric current 220 Volts 50 cycles |
| Cabin Information | Cabin Sizes (• Cabins are 19 m2, • Suites are 39 m2), • Fully Air conditioned cabins (individually controlled) • Marine Satellite TV reception closed circuit video • In room music system • In cabin safety box • Mini bar |
| Dining Information: | • One Main Restaurant • One Lounge Bar • One Sun Deck Bar |